My partner, Amy Gustin had a great idea the other day. This is not at all unusual for her. A lot of my columns begin with one of her great ideas. The other day, Amy was perusing some books about the cave paintings at Lascaux and Chauvet while contemplating the flora and fauna of Ice Age Europe, and speculating about the Paleolithic origins of certain pagan European Christmas symbols, when she said this: "Environmentalists should take over Christmas."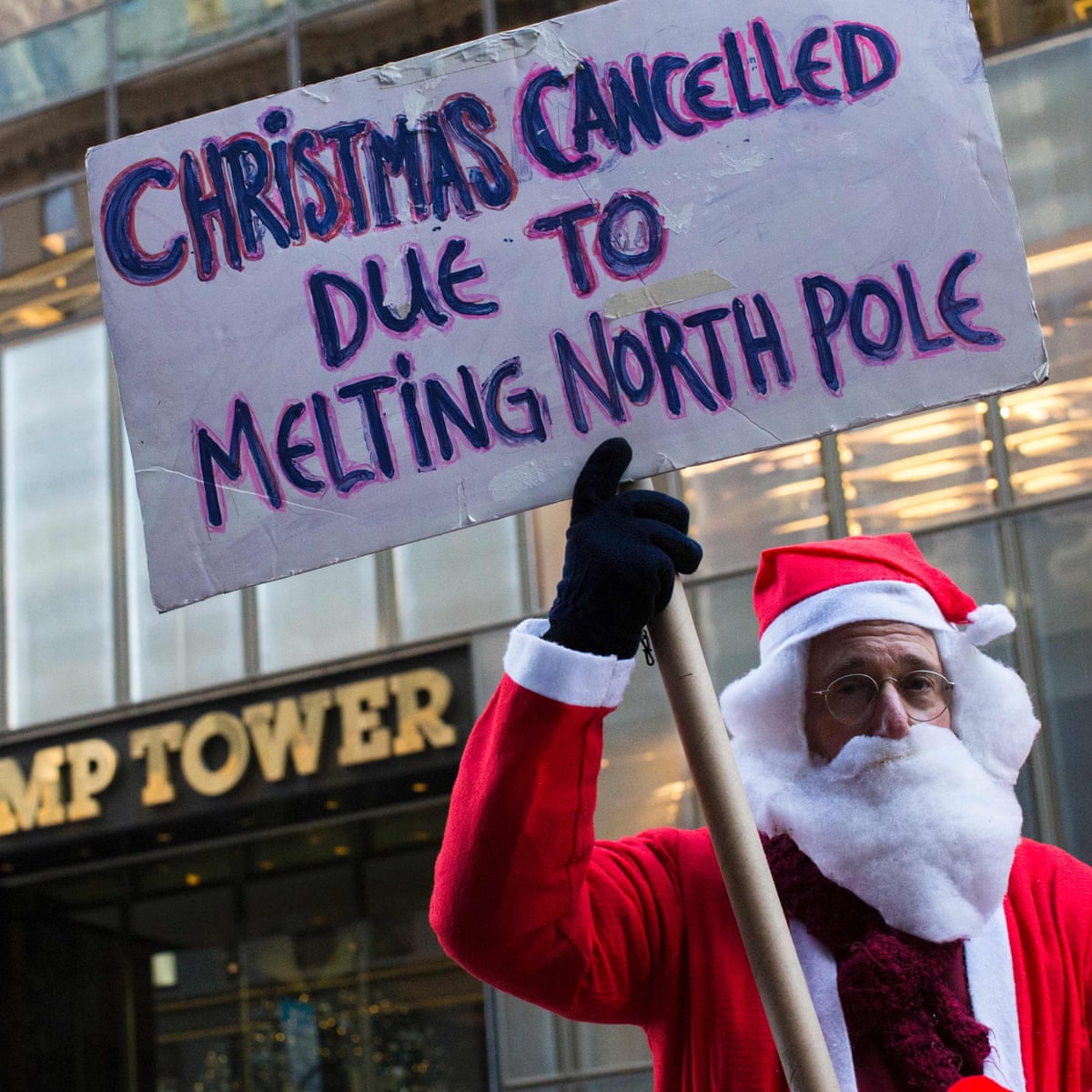 "What?" I replied.
She explained that a lot of European pagan Christmas symbols celebrate the Boreal Forest and an arctic climate. We have Christmas trees. Christmas is the only time of year when snow is popular, and Santa lives at the North Pole and gets around on a sled pulled by caribou. All of these things remind us of the arctic, and they should remind us that the arctic is undergoing dramatic changes due to global climate change.
Can you think of a better symbol for global climate change that Santa Claus? First, he drives a zero emission, carbon neutral vehicle, and he's been doing it for centuries. Second, everything Santa owns faces imminent destruction, unless we can stop the sea ice from shrinking. Santa, Mrs. Claus, all of the elves and the whole toy factory are headed straight for a watery grave at the bottom of the ocean, unless we stop global warming now.
Suddenly, Christmas made sense to me in a whole new way, and I knew I had to write about it. Global Climate Crisis is the biggest challenge we face as a species; it deserves our biggest holiday, especially since those Sciencism dorks took over Earth Day. Fuck them and their March for Science. The people who gave us nuclear proliferation, and put 250 different persistent man-made toxins in every mother's breast milk came out and walked all over Earth Day to tell us that scientists agree that global warming is a real phenomena, and by the way, go vaccinate your kids, eat your GMOs and have faith in Elon Musk's space program. May the force be with you. Nanu Nanu.
We need Christmas if we are going to turn around the climate crisis. Forget about the baby Jesus and the Catholic Church's first victim of sexual abuse. Jesus has always been a divisive figure, even as a baby, and nativity scenes often stir controversy. Who needs it? If you want to put out your creche, go ahead, just leave the holy family in the box. Go ahead and put out all of the animals. They're the only thing anyone really likes about your creche anyway. Then go ahead and add a few more animals. Christmas is all about protecting biodiversity, so go wild on the animals.
Coca Cola has done a great job of making the polar bear into a symbol of Christmas, and we should adopt that symbol wholeheartedly. Instead of Mary, Joseph and Baby Jesus, put a mother polar bear and her two cubs in your nativity scene. I'm all for wise men, if you can find any, but how wise can your men be if they're standing next to a hungry polar bear.
Global Climate Crisis effects everyone, and it's time to make Christmas into a holiday for everyone. From now on, Christmas is about the North Pole, and the gift of a stable climate. Being born doesn't get you a holiday, in my book. Jesus has a holiday, it's the one he lived and died for, and Christians should go ahead and do Easter big, but Christmas is too important to let Christians hog it to themselves. Besides, Christmas is better without Jesus.
We've still got Santa Claus, but now Christmas is about saving Santa. We've got reindeer and sleigh-bells, snow and Christmas trees and we've got all of the animals coming together to help their friend the polar bear. We've got the Nutcracker to help us crack the nut of global climate change, and we can re-edit the Charlie Brown Christmas Special so that Linus' big speech reflects the holiday's bold new direction. Everything you love about Christmas will still be there for you, but now, Christmas has a mission.
A lot has happened since I first wrote these words a couple of years ago. For one, Amy and I had the opportunity to visit Lascaux and Chauvet, as well as many other European prehistoric art sites. We also visited the Arctic Circle and the reindeer herding Sami people in Northern Sweden and Norway. Inspired by these experiences, Amy wrote a new Christmas myth, and I composed a musical soundtrack to accompany it. We call it "Sarah's Search for Santa." It is the story of a young girl's search for the meaning of Christmas, and it is now available as a CD or digital download. We love it, and I think you will too. Here's a little bit about it:
Sarah's Search for Santa, A Different Kind of Christmas Album
If Santa Claus is a myth, does that mean Christmas isn't real? This question sends the young protagonist, "Sarah," on a magical quest to find the deepest roots of Christmas. By drawing on the animist and shamanic elements of the world's most popular holiday, Sarah's Search for Santa traces the origins of the season's most beloved icon, Santa Claus, and his flying reindeer, back to their beginnings in Ice Age Europe. Amy Gustin, host of the Living Earth Connection, a radio show, blog and podcast that examines the roots of our current global ecological crisis from the perspective of animist spirituality, and musician, record producer and filmmaker, John Hardin have teamed up to produce a new and very unusual Christmas album that the whole family can enjoy.
This modern fairy tale uses spare language, old European Christmas melodies and mesmerizing instrumental music to take us back in time, through the eyes of a young girl, whose parents recently told her that Santa wasn't real. In Sarah's Search for Santa, Sarah finds a new ornament on her Christmas tree, left for her by a mysterious stranger who visits her home on Christmas Eve. As she follows the stranger outside, she finds herself in an unfamiliar forest where she meets a reindeer who takes her on a magical journey through space and time to find Santa Claus.
Sarah's Search for Santa sprang out of Gustin and Hardin's quest to learn about, and connect with, their own indigenous European animist roots. Their quest took them to ancient rock art sites in France, Sweden and Norway, medieval villages in Germany, and North of the Arctic Circle to meet Sami people and study their culture. This new fairy tale draws from all of these experiences and culminates in a gentle story, set to original music, told in a way that everyone can enjoy, and a child can understand.
"I always loved fairy tales growing up, and never lost my attraction for them" Gustin explains, "I eventually came to realize that the magical quality that appealed to me in fairy tales was the animist worldview. Animism is the perception that the world around us is alive and intelligent. All of our early human ancestors were animists, and fairy tales are one of the last bastions of animism in Western Civilization. Fairy tales remain one of the best ways to express an animist worldview, because stories convey meaning on a deeper level than facts, logic and statistics. In regards to Christmas, Christmas trees, reindeer, Amanita mushrooms and Santa Claus are not unbroken Christmas traditions, but these symbols reemerge because they remind us of our indigenous shamanic beginnings, and these animist origins have a powerful attraction. Reindeer, for example, resonate so deeply with us because they were critical to our ancestor's survival during Europe's Ice Ages."
"The Amanita muscaria mushroom has fascinated me since I was young" Gustin offered, "I've bought toys and art with this symbol, because seeing it always makes my heart leap with joy. I have since learned that these mushrooms have an ancient shamanic history that pre-dates their magical association with Christmas. In Sarah's Search for Santa the mushroom acts as a guiding spirit, and the reindeer eats one before their flight. Reindeer are known to search out these mushrooms and eat them, which ties into the legend of flying reindeer."
"Sarah's Search for Santa grew out of a variety of interests: a deep love and fascination with reindeer, the Taiga forest, tundra, and arctic cultures and habitats, as well as European Ice Age art and animals, and a rekindling of my love for Christmas celebrations." Gustin continues, "At first, these seemed like separate unconnected topics, but by following the golden threads, I discovered that they all connected. The cultures of the arctic provide good models for how our European Ice Age ancestors lived. Reindeer kept Ice Age Europeans alive during the coldest periods of our history. At the La Madeleine rock shelter near Les Eyzies, France, reindeer make up 87-100% of all the animal remains found in almost every layer of excavation. Reindeer not only provided food to our Ice Age ancestors, but people relied on reindeer hides for warm clothing, bones, tendons and antlers for making tools and weapons, and guts and hooves for everything from cooking utensils to storage containers. You can find beautiful depictions of reindeer made by ancient people in the caves of La Combarelles and Font de Gaume in Les Eyzies France, so it's no surprise to see reindeer reappear in European Christmas celebrations centuries later. Sarah's Search for Santa reminds us of the deep connection we have with these remarkable animals."
The painted caves of Southwestern France also inspire the music that accompanies Sarah's Search for Santa. "The acoustics in these painted caves are extraordinary." Hardin points out. "In Grotte de Cougnac, archaeologists tell us that ancient people played the stalagmites in the cave like a giant stone marimba. While touring these caves, I realized that the art depicted on the walls only tells part of the story. The sound of these places, and the music people made within them must have had a central role in the rites and rituals conducted there. After visiting the caves, I began imagining what kind of music prehistoric Ice Age people might have made in these sacred spaces, based on archaeological findings, indigenous tribal music, and surviving shamanic traditions."
"About half of the music in Sarah's Search for Santa conveys this tribal, shamanic vibe with drums, rattles, overtone flutes and didgeridoo. The balance of the music to Sarah's Search for Santa expresses the young girl's sense of wonder, and love of Christmas with sounds that hearken back to medieval Europe: a reedy organ ambiance, sleigh bells, a tinkling glockenspiel, and traditional Christmas melodies played on the recorder." Hardin explains, adding "Of course, there's also a little magic that only modern electronics can provide."
Sarah's Search for Santa consists of two tracks, pt 1, Sarah Meets a Reindeer, and pt 2, Finding Santa Claus. This full length album is available as a download for $7.00, and as a CD for $12 at johnhardin.bandcamp.com. If you are in Humboldt County, you can also find it at The Rocking Horse, and People's Records on the Plaza in Arcata, and at Works Records in Eureka.